Podcasts. I have recently come to love podcasts. I've always been a video kinda gal. I love watching what people are doing and how they are saying something to somebody else or me the audience. Perhaps this comes from my love of theatre and film, I'm not sure. However, in the last 6 months, the amount of time I have spent on transport and walking places wearing headphones listening to music has massively increased from the rest of my life. I love music don't get me wrong but sometimes change is good and I decided to start listening to podcasts.
There are so many to chose from depending on what you're interested in. I thought I would let you know my current favourite ones, maybe you've listened to them too and we can geek about them together. Or maybe they sound like something you would love and I introduce you to it. Either way, let's kick off with a series all about Health & Fitness.
Fit&Fearless (Tally Rye, Zanna Van Dijk, Victoria Spence)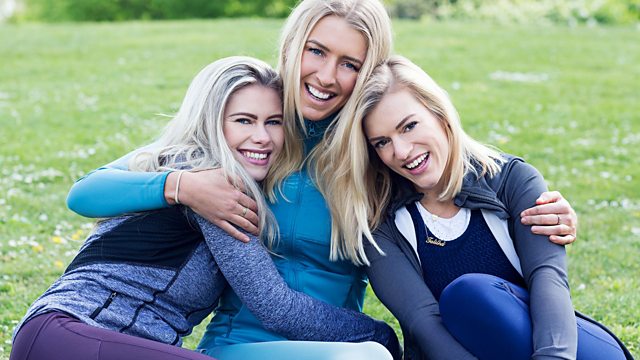 I have been following this from the beginning, mainly because I follow the girls on Instagram so I knew about it coming out but if you don't know these three girls are from Girl Gains which is all about making women feel empowered and confident in their bodies. I have loved every episode even those that don't necessarily relate to me like pre and postnatal exercising. I have loved learning and hearing from the guests they bring on who are normally experts in the topic they are discussing. The girls do however bring their own experiences and knowledge into the episodes, they are trained personal trainers and really know their stuff! I particularly enjoy them talking about the journey they have individually been on and how that has got them to where they are now. Everyone's story is different and the way we get to reach our goals is so different too and these girls really show that. Their passion is so obvious throughout the series so far, they want to be discussing these topics because they enjoy it and they know the audience is too. They want to help and educate women is very present and something that is so relevant right now. We need to be empowering women not bringing them down. Empowering yourself on your own can be difficult but when there are three women in your ear being honest, passionate and truthful you can't go wrong. I get to work after listening to an episode on the way and I want to go and kick some ass with how confident I am. I can't wait to listen to the next episodes in this series.
I would give this podcast a 10/10 for entertainment, educational content, representation of women (fist pumping the air in women appreciation) the happiness it brings, thoughtfulness, honest and true facts. An all-around good listen.
Search Fit and Fearless into your podcast app or click the below
BBC Podcast - Fit&Fearless
Happy Place (Ferne Cotton)
Now a little bit of a contrast to the one above but still as enjoyable. I have only listened to two episodes because it is new and that is all that is available at the time I am writing this. Again I follow Ferne on social media but don't particularly know a lot about her. This podcast isn't actually about her though which I kind of love, it's her interviewing people, celebrities. Ferne delves into the lives of people and the way they find hope and happiness in days when they feel a little blue. I thought this was a really interesting concept. Also just to hear about the lives of celebrities in a light that we don't always see in the media or in their medium. The latest I have just listened to is Dawn French. Dawn French is a household name across the UK and maybe further I don't know. But Ferne enlightened me on some interesting hard warming qualities of Dawn French through this episode that I didn't know. Why would I? She is a comedian, they don't often talk about hard hitting topics without making a joke out of it. Her father died, she moved cities alone, she couldn't have children, she adopted a child, she divorced her husband and held a career throughout! WHAT! How has she done all that and still opens the podcast with a joke! Ferne chooses to go to the house of the person she is talking to which I love because that is often the place most people are at their happiest. I love hearing the realities of these people lives. The media front is definitely a front and not the person themselves which I think we all have to remember, not just about celebrities but for everyone. We all have our masks and walls that hide pain and heartbreak and that's okay, everyone just needs to remember that I think. The world would have more compassion and love I think if we understood that. I am loving the direction that this is going in and can't wait for the next guests that she speaks to!
I would give this an 8/10 which is pretty high when I have only heard 2 episodes!!
Search Happy Place on the app or on her website
www.officialfearnecotton.com
A Guilty Feminist (Deborah Frances-White)
Now some of you might be put off by the word feminist. Or some of you might be interested because of the word feminist. I would like to say something to the first people. Feminism is equality, no matter what you think that is what it means. So put aside the stereotypes of men hating butch lesbians because that isn't right! *okay rant over*
This podcast is hilarious. I was listening to this in public and looked absolutely crazy because I was hysterically laughing out loud. The topics they cover are so broad from, period poverty to mental health to bringing up a feminist son. They start the podcasts with a segment which is Deborah Frances White declaring herself as a feminist but following it with a juxtaposing statement, e.g, 'I'm a feminist, but I detagged myself from a picture at a women's conference where we were all standing in front of a sign which said 'Empowered Not Coward', because my ankles looked fat.' These are so funny because they are all relatable and the live audience second that with their laughter.
Having a live audience when the record is a really nice addition to the podcats. Deborah is a comedian so having an audience for her to bounce off of makes for a really exciting show. Using the audience within the show is nice too, makes us the listeners feel more included. People from the audience get to ask questions or make statements about what it is they're discussing.
The topics they discuss with knowledge guests is super interesting however the teaching of insecurities and hypocrisies about feminism I think is a greater lesson. Not everyone is perfect but having the basic principles and learning from everyday events how to be 'a better person'. Charity giving is a good way to be a better person and in some of the episodes, I have listened to they have a charity of the episode and you can donate to that charity and they collect for that organisation at the actual show as well.
I would give this a 10/10! I think it is funny, informative and all round entertaining. There are so many episodes that I don't think I will ever catch up with them all but I will definitely be attempting to make my way through them as best I can.
Use this link guiltyfeminist.com/episodes
to listen to episodes and also learn more about it or search it 
on apple podcasts.
I would like to do this maybe every month or so and let you know any new podcasts that I am listening to. If that is something people would find interesting, I know I do.
Let me know which ones you have checked out and any podcats you think I will love?!